Hi Everybody
,
Time flies so quick these days it almost seems like only yesterday that I was penning the update for last week for you all !
This week we introduce the "Gallery of the Day" and "Model of the Day" promotional features for you all - full details are below and are also available in the CuriousCash members area.
Also this week, we have brought a whole bundle of BoyMail Newsletters, which work brilliantly as full page ads and for mail. See below and the members area for complete details. Click here for an example.
Keep your feedback and ideas for the revamp of the CuriousCash site into WebmasterDan on email webmaster@curiouscash.com - we have had some excellent input so far - and this is your opportunity to help shape the program you want !!
Now everyone should have received our special Press Release just confirming for you that CuriousCash is in no way impacted by the current iBill situation. This was not us having a swipe at iBill (we have many friends there), but simply in response to a number of queries from some of you people asking us what the issues were. There are NONE. You can confidently send us your traffic knowing that this has NO impact.
We are researching billing issues and some new concepts to be able to broaden the range of sites that we can offer you and we should have some quite exciting news in the near future in regards to online pharmacies, gaming and also a true online multi-targeted magazine style publication.
We continue to do our best to improve for you.
Remember to contact any of us anytime you need help, advice or just want a chat.
The CuriousCash Team
AUSTRALIAN WEBMASTER GATHERING - 19 TO 21 NOVEMBER
SYDNEY, AUSTRALIA
Calling all interested webmasters, where ever you may be ! We are arranging a gathering of webmasters in Sydney, Australia from Friday 19 November to Sunday 21 November.
The 2 key events organized thus far are a sensational twilight climb of the Sydney Harbour Bridge on the evening of Friday 19 November (click here for details), and a brilliant few hours of early evening/night-time fully-catered boat cruise on Saturday the 21 November (click here for full details).
This is not simply a CuriousCash gathering, it is a social event for ALL webmasters, and those that have already booked are an interesting cross-section of people working actively in the adult industry down here in Australia.
We hope to be announcing some very special guests in the near future.
We have a travel company on the job to provide a full service for travel, accommodation and attendance at the events, and you can use them to do all and/or any part of the program.
The Bridge Climb is limited to just 12 persons and the Boat Cruise to 40, and you must confirm your bookings through the travel agency NO later than Monday 25 October.
THE ABOVE IS A PAID ADVERTISEMENT
ADVERTISING ENQUIRIES - ADVERTISING@CURIOUSCASH.COM
New Erotic Gay Fiction Plugins Added ...
The new Gay Erotic Fiction plugins to members areas have begun to roll out. This should further improve our already impressive retention.
"Gallery of the Day" Added To Promo Tools !
Inside the "Promotional Material" section of the CuriousCash members area you will now see added the "Gallery of the Day" - CLICK HERE to test. This rotates through ALL of our hosted galleries and we will soon introduce rotations just for specific sites.
"Model of the Day" Added To Promo Tools !
Inside the "Promotional Material" section of the CuriousCash members area you will now see added the "Model of the Day" set up for 11 of the premium sites - CLICK HERE to test for Australian Males. This rotates through the 200+ model Teaser Pages we offer for EACH specific site.
BoyMail Promotional Pages.
Over the next couple of days we will be adding a bunch of "Boy Mail" promotional pages to the CuriousCash members area. These work VERY well as full page ads and can also be used for CanSpam compliant Optin Mail WITH our agreement. To use these with your gathered double optin emails, please contact ToyBoy@CuriousCash.com for advice and compliance checking and agreement to accept mail.
Members Login
CCBill Login
In The CuriousCash Pipeline..........
==> AsianBoyss.com update is on the schedule and we expect even more new content from our new deal to be delivered in the next week or so.
==> "Custom Exits" coding has been put on hold while Webmaster Dan works on beating the pop-up blockers, including the brand new features of Windows XP Service Pack 2. Once beaten, option will made available.
==> We will soon also Rotating "Daily Galleries" for INDIVIDUAL sites, "Pic Of The Day" general and also for individual site promotion.
==> The new Penis Development site is also on the schedule to tweak, get billing set up, and then integrate in the CuriousCash program
==> Exclusive content shooting infrastructure and sales site has been put back a little to ensure that we get it all right..
==> Our new webmaster board should become closer to a reality in coming weeks..
==> Plans are in place to provide more banners, hosted galleries, hosted freesites and free content.
GIO





Gio is the latest model we shot - what can we say? Click the pics !!




#1 - Boy Models Australia
Shooting to top spot, Boy Models improves again.
Converting
1 in 255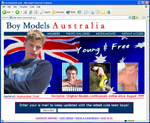 LAS VEGAS INTERNEXT 2005
There are only 80-something days left until the the biggest Adult Webmaster vent on the planet - Las Vegas Internext !
Click here for full details on the Internext event !
From January 4 to 6 2005, the global adult webmaster community takes over the Mandalay Bay Resort & Casino for the premier adult community event of the year.
And the CuriousCash team will be there in force!
CuriousTim, CuriousToyBoy and WebmasterDan will make the journey from Downunder for the show and will be available for all of webmasters for one-on-one sessions or just to catch up for a chat and a drink.
CuriousCash is also a sponsor of the Gay Webmaster Bash - 3 days and nights of specific events tailored for the gay webmaster community !
Click here for details of the Gay Webmasters Bash events.
Don't forget that we will also be drawing the winner of the CuriousCash Webmaster of the Year competition at the Wednesday night (5 January) function.
Click here for complete details of the Webmaster of the Year competition.
Some Quick Wit....
"If I held you any closer I'd be behind you." - Groucho Marx
Boy: Will you punish me for something I didn't do?
Teacher: Of course not!
Boy: Good cause I didn't do my homework!
Q. Why is air like sex?
A. It's no big deal unless you're not getting any.
To all the people who said I was crazy to sink all of my money into tech stocks, I have just one thing to say: Can I sleep on your couch?
A TOAST
Here's to the women who love me terribly - may they soon improve.
Monday is an awful way to spend 1/7th of your life.
Every time I try to give blood, they won't accept it.
Maybe it's time I try giving my own blood.
Q: How can you tell you have a high sperm count?
A: Your boyfriend has to chew before swallowing.
Q: How are women like parking spaces?
A: All the good ones are taken, all the free ones are handicapped and once you get a good one, you have to keep feeding it money.
The Ghosts of Presidents Past
One night, George W. Bush was awakened by George Washington's ghost in the White House.
"What is the best thing I could do to help the country?" Bush asked.
"Set an honest and honorable example, just as I did", advised George Washington.
Bush didn't sleep well that night.
The next night, the ghost of Thomas Jefferson moved through the dark bedroom.
"Tom, what is the best thing I could do to help the country?" Bush asked.
"Cut taxes and reduce the size of government", advised Tom.
Bush didn't sleep well that night either.
The next night, he saw another figure moving in the shadows. It was Abraham Lincoln's ghost.
"Abe, what is the best thing I could do to help the country?", Bush asked.
Abe replied, "Go to the theater".