Hello Folks
,
Yep, you're right, it's been a couple of weeks since our last update.
CuriousTim was away gallivanting around the countryside shooting fresh new straight boys, WebmasterDan was moving house and CuriousToyBoy had some god-awful computer problems and then pulled up with a bad flu.
So can we ALL make a deal and just pretend that last week didn't happen? We can? Cool, thanks for your understanding !! :-)
We have so much in the works this end, and unfortunately only so many hours in every day and so many of us as resources to go around to get everything done - we WILL get there, but please bear with us, as we strive to make sure that everything we do works the best for you and all concerned.
We are looking at billing systems, and cascading billing and better tracking, but the key element to this type of thing is have prided ourselves for so long on NEVER shaving, that we wish to ensure whatever we come up with at the end of the day is transparent and open enough so that we can easily demonstrate to you guys that our "ZERO shave" guarantee will ALWAYS be in place. Any ideas would be helpful !!
Anyway, more of an update in things underway this week than too much new, but plenty of details on all that and much more down below.
Please contact any of us anytime you need help, advice or just want a chat - we are always here to try our very best to help you guys help us.
The CuriousCash Team
AUSTRALIAN WEBMASTER GATHERING
19-21 NOV 04 - SYDNEY AUSTRALIA
Calling all interested webmasters, where ever you may be ! We are arranging a gathering of webmasters in Sydney, Australia from Friday 19 November to Sunday 21 November.
The 2 key events organized thus far are a sensational twilight climb of the Sydney Harbour Bridge on the evening of Friday 19 November (click here for details), and a brilliant few hours of early evening/night-time fully-catered boat cruise on Saturday the 21 November (click here for full details).
This is not simply a CuriousCash gathering, it is a social event for ALL webmasters, and those that have already booked are an interesting cross-section of people working actively in the adult industry down here in Australia.
We have a travel company on the job to provide a full service for travel, accommodation and attendance at the events, and you can use them to do all and/or any part of the program.
The Bridge Climb is limited to just 12 persons and the Boat Cruise to 40, and you must confirm your bookings through the travel agency AS SOON AS POSSIBLE !!
THE ABOVE IS A PAID ADVERTISEMENT
ADVERTISING ENQUIRIES - ADVERTISING@CURIOUSCASH.COM
New Erotic Gay Fiction Plugins Added ...
The new Gay Erotic Fiction plugins to members areas have now been placed in all appropriate sites - this makes our members areas even more "sticky" to enhance retention.
CuriousCash Revamp...
Keep your feedback rolling in to webmaster@curiouscash.com ! Currently enhanced multi-biller solutions are being investigated to improve yield, but yet again provide a webmaster environment that can be free of any shaving accusations - that is FOREMOST in our mind, remember, the ONLY thing we shave is our boys !
New Boy Movie Now Showing !
Our newest feature Boy Movie, "The Seduction of Ben" is now showing in Boy-Movies.com and is accessible to members. Another winner with a cute straight boy being turned !!!!
BoyMail Promotional Pages....
"Boymail" promo pages have been added to marketing tools in the members area. These work VERY well as full page ads and can also be used for CanSpam compliant Optin Mail WITH our agreement. To use these with your gathered double optin emails, please contact ToyBoy@CuriousCash.com for advice and compliance checking and agreement to accept mail.
Members Login
CCBill Login
In The CuriousCash Pipeline..........
==> AsianBoyss.com new semi-exclusive content has been delivered and site will be upgraded in the next week.
==> Custom Exits coding is still waiting for fixes to beat the pop-up blockers..
==> Rotating Daily Galleries for INDIVIDUAL sites, "Pic Of The Day" general and also "Model of the Day" for individual site promotion in the works.
==> Penis Development site is also still being pulled together for integration and launch.
==> Webmaster board is being worked on now.
==> Gay/female lifestyle site in design phase.
==> Exclusive content shooting still on hold.
==> New hosted galleries and banners will be added in the next week or so.
==> Back end processing to include dating sites in members areas stats and improve quality overall.
DARREN




Say hello to Darren our newest boy model - click his pics to find out more !!


#1 - Teen Boy Models

TBM back in top spot with continuing excellent performance!
Converting
1 in 267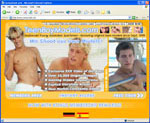 CURIOUSCASH WEBMASTER COMP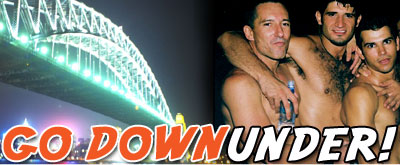 Don't forget that the CuriousCash Webmaster of the Year Competition runs until December 31.
Remember that you already have received a FREE entry just by being a Curious Cash Webmaster.
The winner gets a trip to Australia for the Sydney Gay & Lesbian Mardi Gras in March 2005, or if the winner resides outside of the USA, you get a free trip to one of the US shows of 2005 as decided by us.
You get another FREE entry for every 25 joins you send before 31 December...

You get yet another FREE entry for every webmaster you refer before 31 December (and you also get the 10% referral revenue for life !!).

The winner is to be drawn at one of the public functions during Vegas Internext in January 2005 - ANYONE can win and that could be YOU !!!
Impossible To Please
A group of girlfriends is on vacation when they see a 5-story hotel with a sign that reads: "For Women Only."
Since they are without their boyfriends and husbands, they decide to go in.
The bouncer, a very attractive guy, explains to them how it works. "We have 5 floors. Go up floor by floor, and once you find what you are looking for, you can stay there. It's easy to decide since each floor has a sign telling you what's inside."
So they start going up and on the first floor the sign reads: "All the men on this floor are short and plain." The friends laugh and without hesitation move on to the next floor.
The sign on the second floor reads: "All the men here are short and handsome." Still, this isn't good enough, so the friends continue on up.
They reach the third floor and the sign reads: "All the men here are tall and plain."
They still want to do better, and so, knowing there are still two floors left, they continued on up.
On the fourth floor, the sign is perfect: "All the men here are tall and handsome." The women get all excited and are going in when they realize that there is still one floor left.
Wondering what they are missing, they head on up to the fifth floor.
There they find a sign that reads: "There are no men here. This floor was built only to prove that there is no way to please a woman."
10 Husbands, Still A Virgin
A lawyer married a woman who had previously divorced ten husbands.
On their wedding night, she told her new husband, "Please be gentle, I'm still a virgin."
"What?" said the puzzled groom.
"How can that be if you've been married ten times?"
"Well, Husband #1 was a sales representative: he kept telling me how great it was going to be.
Husband #2 was in software services: he was never really sure how it was supposed to function, but he said he'd look into it and get back to me.
Husband #3 was from field services: he said everything checked out diagnostically but he just couldn't get the system up.
Husband #4 was in telemarketing: even though he knew he had the order, he didn't know when he would be able to deliver.
Husband #5 was an engineer: he understood the basic process but wanted three years to research, implement, and design a new state-of-the-art method.
Husband #6 was from finance and administration: he thought he knew how, but he wasn't sure whether it was his job or not.
Husband #7 was in marketing: although he had a nice product, he was never sure how to position it.
Husband #8 was a psychologist: all he ever did was talk about it.
Husband #9 was a gynecologist: all he did was look at it.
Husband #10 was a stamp collector: all he ever did was... God! I miss him!
But now that I've married you, I'm really excited!"
"Good," said the new husband, "but, why?"
"You're a lawyer. This time I know I'm gonna get screwed!"