Hi All,
Well, ToyBoy's brush with death (Chickenpox actually, he is a RENOWNED exaggerator) meant you did not get an update last week, so apologies all round for not providing you with your fix.
With only 9 days until Christmas and only 19 days until we here all jet off to Internext, there is PLENTY going on !!
We have a couple of new sites hitting the decks in the next week or so, and our much vaunted webmaster board is well and truly close to launch.
There have been further infrastructure upgrades (full details below) and more banners added for your promotional efforts.
We have a poker site for you to promote and also the chance to have you own poker room coming very soon, and we are also far advanced on our Pharmacy program for you to further diversify your opportunities to bank from your association with CuriousCash.
There certainly is never a dull moment around our offices, and there are simply not enough hours in the day or days in the week to get things out to you as fast as we would like ! But we WILL get there ;-)
New models Zac and Eligh have been out up over the last week, so get down below and check out the hot boys that CuriousTim is famous for recruiting an shooting !!!
Don't forget your Christmas shopping !!!
The CuriousCash Team
DON'T FORGET YOU GET
DOUBLE ENTRIES FOR DECEMBER!!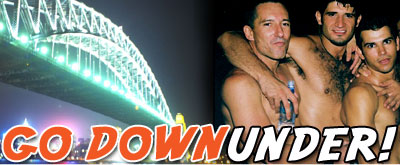 The fabulous Gold Coast & Sydney, home of the 2005 Mardi-Gras could be yours free !!
DOUBLE ENTRIES CLOSE 31 DECEMBER !
For EVERY referred webmaster, you get 2 entries instead of 1 and for every 25 joins you send in December, you get 2 entries instead of one ! Even more chances to win !
Our lucky winner is to be drawn at Gay Webmaster Bash during Vegas Internext in January 2005.
ANYONE can win - and that could be YOU !!!
THE ABOVE IS A PAID ADVERTISEMENT
ADVERTISING ENQUIRIES - ADVERTISING@CURIOUSCASH.COM
==> ImproveMyPenis.com is waiting for billing approval and should be added next week.
==> BentBoard.com should be soft launched before Internext and up and running fully right after.
==> PurveModelsAustralia.com will hopefully be online and added to the program before Xmas.
==> MORE New Banners for sites are being still being delivered and will be put up as we get them.
==> Custom Exits are currently being coded for you.
==> MadScratch.com our Rx/Pharmacy program, will be launched End of January at the latest.
==> New gay oriented poker site is being finalized and we anticipate this to be online prior Christmas.
==> New Poker room program is under development and we anticipate this to be done by Internext.
==> Rotating Daily Galleries for each individual site (including text files) will be done once all new galleries have been delivered in the New Year.
==> Rotating Pic Of The Day for all sites and then each individual site will also be delivered in the New Year after all new hosted galleries are finished.
==> Exclusive content shooting on hold until 2005.
ZAC
Our newest cute boy model ! Hot ! Click the pics to learn about him.
ELIGH
Another new boy! Wow ! Check him out also by clicking either picture.
#

1 - Asian Boyss
Still up top with the revamp and new content proving a winner !!!
Converting
1 in 256
CURIOUSCASH UPGRADE UPDATE
Just so that you are all aware, we have recently upgraded the main Curious Cash server.
This upgrade is being monitored to see if the changes have improved the overall performance of the server.
A further upgrade may be performed if we are not happy with the performance.
This upgrade does NOT effect your affiliate tracking as that is run from a separate server.
We are also reviewing and upgrading our complete hosting setup, mirroring front ends and members areas, improving databases and tweaking performance generally.
Basically this is all aboutquicker to access the sites and your stats, and better performance across the board.

If you have any questions at all, please direct them to Webmaster@CuriousCash.com
Genie in a Bottle
A couple were golfing one day on a very exclusive golf course, lined with million-dollar houses.
On the third tee the husband said, "Honey, be very careful when you drive the ball. Don't knock out any windows. It'll cost us a fortune to fix!"
The wife teed up and shanked it right through the window of the biggest house on the course. The husband cringed and said, "I told you to watch out for the houses! All right, let's go up there, apologize and see how much this is going to cost."

They walked up, knocked on the door and heard a voice say "Come on in." They opened the door and saw glass all over the floor and a broken bottle lying on its side in the foyer.
A man on the couch said, "Are you the people that broke my window?"
"Uh, yeah. Sorry about that." the husband replied.
"No, actually I want to thank you. I'm a genie that was trapped for a thousand years in that bottle. You've released me! I'm allowed to grant three wishes, and I'll give you each one wish and keep the last one for myself."
"Wow, great!" the husband said. "I want a million dollars a year for the rest of my life!"
"No problem. It's the least I could do. And you, what do you want?" the genie said, looking at the wife.
"I want a house in every country of the world!" she said.
"Consider it done!" the genie replied.
"And what's your wish genie?" the husband asked.
"Well, since I've been trapped in that bottle, I haven't had sex with a woman in a thousand years. My wish is to sleep with your wife."
The husband looked at the wife and said "Well, we did get a lot of money and all those houses honey. I guess I'm OK with care."
The genie took the wife upstairs and ravished her for two hours. Afterwards, the genie rolled over, looked at the wife, and said, "How old is your husband anyway?"
"35," she replied.
"And he still believes in genies? That's amazing!"
15 Signs Your Band Will NEVER Hit the Big Time
16. Four words: Rage Against The Bagpipe
15. Bob Marley's cause: freedom and equality
U2's cause: third world debt relief
Your band's cause: irritable bowel syndrome
14. All your members are allergic to Spandex *and* Aqua Net.
13. The term "heavy metal" refers to the collective weight of the band's orthodontics.
12. Critics hail you as the foremost talent in your musical niche. Your musical niche? Gangsta-Country.
11. "I'm sorry, but Sousa tunes set to a hip-hop beat just isn't what the kids are buying these days, Mr.Boone."
10. A Spice Girls cover band just doesn't work if you're 35 years old. And male. And there's only one of you.
9. Your percussionist always has to wait until the dishwasher cycles to retrieve his spoons.
8. You're too busy making sequels to "The Matrix," and besides, your bass playing sucks more than your acting.
7. Band motto: "Practice is for wusses."
6. Genre: Boy Band. Tour Sponsor: NAMBLA
5. Your goals, in order of priority:
1) Score some drugs
2) Score some groupies
3) Score some instruments
4.Your band's video is getting a lot of airplay on MTV - as a promo for "Jackass."
3. Your female lead singer has talent - just not D-cup talent.
2. You keep letting David Lee Roth back in.
AND the Number 1 Sign Your Band Will Never Hit the Big Time...
1. Now that you see the jumbo letters on the marquee, you realize that naming the band "Closed For Private Party" was a big mistake.