Hi Affiliates !
Well things have been hectic here at CuriousCash as usual. ToyBoy has been out of the country, CuriousTim has had a quick break away and Webmaster Dan took his family on a nice break to Singapore and Bangkok.
Now while the boys were off doing all this a major milestone came and went, CuriousCash had its 6th Birthday !
Since 1999, CuriousTim Hamilton has sourced simply the hottest, young exclusive and original models from the great land "Downunder" to treat his surfers to the very best Australia and now the world has to offer – our stable of over 230 fresh amateur boy models is expanding weekly !
As a celebration of this Birthday and to say thanks to all who have supported us over the 6 years of our existence we have decided to continue our offer of giving Webmasters 60% Commission for the month of September instead of the standard 50%. To enjoy this all you need to do is login to the new system and start promoting our sites with the latest link. Further benefits of doing this includes the ability to cascade the billing and pick up memberships from a vast array of processors instead of just CCBill, giving you a bigger net to catch your fish!
We thank you all for your continued support and if you have any questions, queries or just want to chat biz, please feel free to email and member of the team. All details are at the bottom.
The CuriousCash Crew
Upcoming Events !
CuriousCash.com, in conjunction with CJ (http://www.purve.com) are proud to be organizing a number of upcoming events for webmasters both in Australia and abroad !
AUSSIE WEBMASTER GATHERING
After the success of the Sydney Gathering last year, we are organizing a boat cruise and then a recovery BBQ the next day at CJ & ToyBoy's place for November 5 & 6. Full details by first week of September.
Click here to view pics of last years event
SYDNEY GAY MARDI GRAS 2006
Also with details to be released in first week of September will be a small and intimate gathering inviting webmasters worldwide to join us for the 2006 Sydney Gay & Lesbian Mardi Gras and afterwards on the Gold Coast - pencil in Saturday 4 March 2006 for the parade !
Click here to view pics of last years event
INTERNET DOWNUNDER 2007
In pre-planning is the first truly global webmaster event to be held Downunder. Not just adult focused, but covering all aspects of the internet and intertwined with much fun and frivolity and the opportunity for foreign webmasters to holiday also and see much of what the great Land Downunder has to offer !
Email ToyBoy@CuriousCash.com if you want to be on the advance notice list of wish to be involved in some way, shape or form in any of the events above.
#1 - Australian Males

And the ballpark changes - our mega site goes crazy recently to hit the top !!
Converting
1 in 183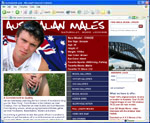 Again here our usual series, where WebmasterDan, answers all of your questions .......
What are the main Advantages of changing my link codes from the old format to the new MPA3 System? If you change your links across you will get all of the following benefits.
Receive 60% instead of 50% on your Revshare Account (for September Only)
There are Multiple processors so a bigger net is cast to capture signup's from your traffic
Detailed Stats and Reporting
Enhanced Marketing Material
I see loads of Processors are now available through CuriousCash's MPA3 system. WHich of these do you pay affiliates sales on?
All of them. We now payout on CCBill, EPOCH / Paycom, Verotel, 2000 Charge, ACH Debit, mEnable, GXBill (Coming Soon), Funds2go (Coming Soon)
This means if you send a Credit Card, Direct Debit, Web 900, Asian ATM, European Debit or SMS Transaction to any of our sites you will receive credit for this.
With all these processors does it mean I will now get loads of checks from CuriousCash, and only small amounts from each provider?
No, under MPA3 we will now take care of Payout's and will send you ONE check for all of the transactions you do. SO if you made $250 with CCBill but only $5 with Verotel you will receive ONE check from us for $255.
Will the FHG's ever be available within CuriousCash again? The answer to this is yes. We will shortly have a new hosting provider in which we have stitched up a great deal. This new deal allows us to reintroduce the galleries as the system will now have both the power and bandwidth to support. In the interim all galleries are already available for download and hosting on your own server. You can grab them within the Affiliates area of CuriousCash.
More hard questions for WebmasterDan? Email them today - Webmaster@CuriousCash.com
Appearances Can Be Deceiving



One day a nun was standing on the side of the road waiting for a cab. A cab stopped and picked her up. During the ride she noticed that the driver was staring at her.

When she asked him why, he said, "I want to ask you something, but I don't want to offend you."

She said, "You can't offend me. I have been a nun long enough that I have heard just about everything."

The cab driver then said, "Well, I've always had a fantasy to have a nun give me a blow job."

She said, "Well, perhaps we can work something out under two conditions. You have to be single, and you have to be Catholic."

Immediately the cab driver said, "Oh, yes! I'm single and I'm Catholic!"

The nun said, "Okay, pull into that alley."

The cab driver pulled into the alley and the nun went to work. Shortly afterwards, the cab driver started crying.

The nun said, "My child, what's the matter?"

He said tearfully, "Sister, I have sinned. I lied, I lied...I'm married and I'm Jewish!"

The nun replied, "That's okay. My name's Bruce and I'm on my way to a costume party!"
Confession
In a small cathedral a janitor was cleaning the pews between services when he was approached by the minister. The minister asked the janitor, "Could you go into the confessional and listen to confessions for me? I really have to go to the bathroom and the Widow McGee is coming. She tends to go on but never really does anything worthy of serious repentance, so when she's done just give her 10 Hail Mary's and I'll be right back."
Being the helpful sort, the janitor agreed. Just as expected the Widow McGee came into the booth and started her confession. "Oh Father, I fear I have done the unforgivable. I have given into carnal thoughts and have had oral sex."
Stunned, the janitor had no idea how to handle this situation. Surely 10 Hail Mary's would not do. So, in a moment of desperation the janitor peered his head out of the confessional and asked an altar boy, "Son, what does the minister give for oral sex?"
In reply the altar boy said, "Two Snickers bars and a Coke."