Hi Guys & Gals !
OK, so we had some technical problems getting the last mailer to you, so we have now re-issued (because ToyBoy is still away after a magnificent weekend at Mardi Gras !!).
On that, LOADS of pics and video will come online for you next week.
Back on schedule with ToyBoy firmly ensconced in the Philippines from this week.
Do not forget that ToyBoy will be in Phoenix and then CuriousTim and ToyBoy will be in Prague if you want some of their time.
So here we go - and hopefully our gremlins have worked themselves out and you'll get your update this time.
The CuriousCash Crew
Free Live Sex Feeds With Upsell
For more than 7 years Pornication has set the internet sex industry standards in live sex feeds for websites.
Pornication's unique, private 1-on-1 LIVE sex feed offers your surfers live, private 1-on-1 shows with their exclusive models! They will pay you up to 40% on ALL customer purchases. That means for their 1-on-1 live shows, you'll get over $2.00/minute every minute the customer spends!

Whether it's search engine traffic, TGP, or exit traffic, their unique1-on-1 live sex payout program gives your traffic better opportunities to convert, and it gives you a steady recurring incentive that no one else can beat. Only from Pornication!
THE ABOVE IS A PAID ADVERTISEMENT
ADVERTISING ENQUIRIES - ADVERTISING@CURIOUSCASH.COM
==> CuriousCash.com will be moving to new server in the next week so hopefully all the bugs that we have experienced in the past will be ironed out and access to the site and all within should be a lot quicker. The new server is more then double the size of the old.
==> Straight Boys Jacking Off is now here! StraightAustralianGuysJackingOff.com features over 50 Original Straight Boys who after a little cash and a slight amount of convincing have dropped their pants and pulled their cocks just for you.

We have even managed to convince a few to stick their cock through a Gloryhole and get sucked off by a Dirty Old Cocksucker!
==> Bentboard.com has been rebuilt on it's new server and Webmaster Dan is just ironing out the final few bugs - get over there register and post !!!!
==> 2 New Boy Movies coming online in the next 2 weeks - keep your eyes here !!
==> PurveModelsAustralia.com should be up and billing within CuriousCash before the end of the month..
==> ImproveMyPenis.com is on hold until we sort a few issues.
==> Custom Exits are almost there. You will have individual exit choice on ALL of our sites.
==> New FHG Text File from Digital Jay has been promised. No delivery in 1 week, we will re-contract.
==> MadScratch.com our Meds/Rx/Pharmacy program, is having some infrastructure bugs ironed out.
==> BMPoker is with the backend provider and should be with you soon.
==> PokerRoomCash is going through final testing and setup. Again, should be a week or 2 at most.
==> SMS expansion going ahead strongly - Webmaster Dan continues negotiations with several SMS and premium rate providers throughout the globe and we are hoping to bring a few of these to fruition in the very near future..
==> Exclusive content shooting is underway ! We are in negotiations with models and photographers to meet the already strong demand and this is still on track to be with you in March.
==> Dating sites WotevaMales.com and NewFriendsNow.com are soon to be fully integrated in our system - this in concert with our new back end systems which will allow this to take place.
# 1 - Mobile Men

Pick up my error last week? MobileMen was, and stays at top spot !!!!
Converting
1 in 239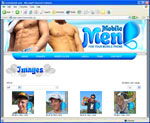 DEAR WEBMASTER DAN ....
Finally, everything you always wanted to know but were afraid to ask - except now you can ask and be answered!
"Dear Webmaster Dan" will be a feature of each issue from the next edition - giving you, the webmaster, to ask the tough questions and get some honest and straight up answers.
We get lots of questions from webmasters about a variety of topics: problems with codes; issues with the CuriousCash members area; advice on best ways to promote CuriousCash sites; how to best apply our plethora of marketing tools.... even what the CuriousCash team had for breakfast !!!
So here is your opportunity to shoot your questions through and have them answered by the CuriousCash Crew - fire up your outlook express and whip those hard questions over to WebmasterDan on webmaster@CuriousCash.com.
One of the team will answer your question personally immediately and the publish your question and response in the update the following week.
Well, don't just sit there - start typing !!!!
Bill Clinton's Legacy
Hillary Clinton died and went to heaven.
As she stood in front of St. Peter at the Pearly Gates, she saw a huge wall of clocks behind him.
She asked, "What are all those clocks?"
St. Peter answered, "Those are Lie-Clocks. Everyone on Earth has a Lie-Clock. Every time you lie, the hands on your clock will move."
"Oh," said Hillary, "who's clock is that?"
"That's Mother Teresa's. The hands have never moved indicating that she never told a lie."
"Whose clock is that?"
"That's Abraham Lincoln's clock. The hands have only moved twice, telling us that Abe only told 2 lies in his entire life."
Hillary asked, "Where's Bill's clock?"
"Bill's clock is in my office. I'm using it as a ceiling fan."
An Undervalued Asset
Tom was lying on his death bed when Joan, his wife, asked him what he stored in the small wooden box that he kept locked in his bedside drawer.
As a final act of good faith, Tom had her open the box. Inside were three eggs and $5,000.
"Why did you keep the eggs?" Joan asked.
"I put an egg in the box everytime I was unfaithful to you," replied Tom, who then begged for forgiveness.
Joan thought about their 60 years together, their wonderful home, children and grandchildren. Throughout their life together, she had wanted for nothing; Tom had provided her with a good life. She turned to him and forgave him.
"Now, what's the $5,000 about?" she asked.
As he breathed his last breath, Tom said, "Every time I got a dozen eggs, I sold them."